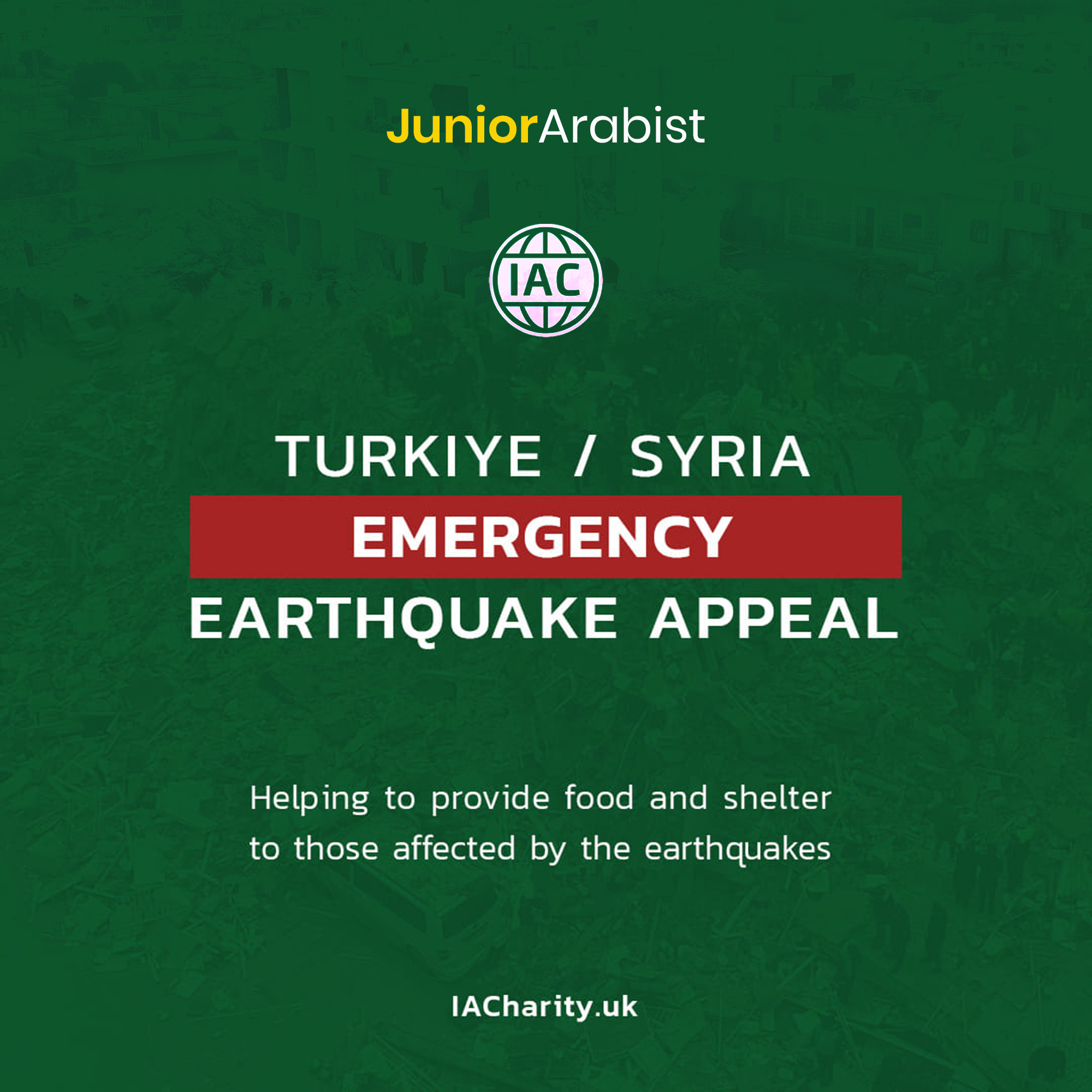 — YOU CAN DONATE YOUR ZAKAT TO THIS CAMPAIGN —
Junior Arabist
£10,377
of
£10,000
raised
TURKIYE – SYRIA EARTHQUAKE APPEAL
On February 6 2023, the Gaziantep region of Turkiye and Northwest Syria was hit by the worst earthquake to hit the region in the last century.
A magnitude 7.8 earthquake has seen over 21,000 dead, over 30,000 injured, more than 6,000 buildings destroyed. It is estimated up to 23 million people have been affected.
It is an integral part of a student's journey that they use the knowledge they attain for good. Supporting our Muslim brothers and sisters in need is one aspect of this.
We at Junior Arabist, along with parents and students, are raising emergency funds to deliver life saving aid to the survivors. Your donations will help families in Turkiye and Syria in their greatest time of need.
The Messenger of Allah ﷺ said: "Whoever removes a grief from a believer from amongst the sorrows of this life, Allah will remove a grief from him amongst the sorrows of the Day of Resurrection" (Sahih Muslim)
In the coldest month of the year, vulnerable children and families are now left out in the freezing cold. They need our help now.
Please donate generously.
DONATIONS WALL
Rumaisa Mahmood
Junior Arabist
Amount Donated
£250.00
Anonymous
Junior Arabist
Amount Donated
£507.30
Anonymous
Junior Arabist
Amount Donated
£507.30
Anonymous
Junior Arabist
Amount Donated
£10.34
Anonymous
Junior Arabist
Amount Donated
£5,071.20
Anonymous
Junior Arabist
Amount Donated
£20.00
Anonymous
Junior Arabist
Amount Donated
£100.00
Anonymous
Junior Arabist
Amount Donated
£182.76
Anonymous
Junior Arabist
Amount Donated
£10.34
Anonymous
Junior Arabist
Amount Donated
£100.00
Tariq Aziz
Junior Arabist
Amount Donated
£20.49
Anonymous
Junior Arabist
Amount Donated
£101.62